"We still haven't gotten the train tickets. We really should do that soon."
It was getting late in Vienna while Jeff and I looked for a place to sit down and finally buy the train tickets for the next day. The adventure of a lifetime was imminent, and only a couple of train rides separated us from a magical place called Hallstatt in Austria's mountainous Salzkammergut region.
We finally grabbed some seats at the bar at Lukas, ordered a couple of beers and, in between sips, disentangled our way through ÖBB's quirky mobile website. And they said we were UX experts, hah!
The stuff of dreams
You see, back in November of last year, Jeff told me visiting Hallstatt had been a dream of his since he was 15. An opportunity to travel to Austria presented itself, so Jeff teased me with a photo of the striking village and asked if I wanted to join him on the trip.
We've known each other for about nine years, traveled to meetups in epic places, and since we are essentially the same person (I can back this up with about 751 references), it didn't take me more than 2 minutes to say I was game. All that was left to do was concoct our plan of action and daydream about the trip until it was upon us.
To Hallstätter See
Fast forward to the day of our trip. We couldn't contain the excitement so no alarms were needed in the morning. Our bodies made sure we woke up before anyone else around. We made our way to Vienna central station ahead of time to make sure we didn't miss our train, which also happened to be the earliest one heading West to Attnang-Puchheim where we'd make the connecting to Hallstatt via a regional train.
We knew the ferry wasn't working in Hallstätter See (Hallstatt lake) so we'd gotten in touch with the host beforehand, which recommended we got off at the next station, at Obertraun. During the ride we watched as the cityscape gave way to the countryside and, later on, to mountains and snow. Lots of snow. Jeff played a few episodes of Booze Traveler which I instantly became hooked on and we were having fun. Speaking of booze, we may or may not have had a couple of drinks to warm our souls.
Despite the train inspector's best efforts to get us off two stations before Obertraun, we reached the tiny town. This is where the happy coincidences started to happen. I called the host again to tell her that we'd be arriving soon, after a quick stop for food. To my surprise, she started to speak Portuguese and asked me if I was from Portugal because she recognized the country code. She then immediately offered to take us to Hallstatt and show us the place once we had finished our lunch. Beers and a sweet cheese strudel count as lunch, aye?
Exploring Hallstatt
On our way to Hallstatt, the host Sandra, told us that a few days before our arrival, Spring started to slowly announce itself and that they even had an atypical year given it hadn't snowed much at all. This made us so happy knowing we'd picked one of the best times to visit the charming town. Snow would not only mean a unique setting, but fewer people than usual which is always a good thing in such popular and tiny destinations like Hallstatt.
After a brief introduction to the place we'd be spending the next day in and giving us some tips about places to eat, Jeff and I were giddy to go out and explore. We made a quick run to the local mini-market, dropped off our nightly provisions, grabbed a couple of extra pieces of clothing and off we went, cameras in hand.
Hallstatt is uniquely quaint and beautiful. I can imagine how hectic and unpleasant it gets in Spring or Summer, but thanks to the weather we were sure to have a one-of-a-kind experience getting to know the place for the first time.
What we didn't expect was how deserted it got, or at least as early as it did. We only saw a handful of people walking about and we both kept looking at each other, incredulous at how we were the only ones curious enough to be looking into every pathway, nook, and cranny. The truth is he had a very limited amount of time to see whatever we could and we were set on making every second count.
Hallstatt is a magical place only made more special by the snow that kept falling throughout the day. Delicate snowflakes turned into a squall and then back into a choreographed dance of white, feathery particles.
I have only experienced snow a few times in my life and the thing that always surprises me about it is the effect it has on the sounds around you. Snow dampens and absorbs a lot of sound which makes any large space suddenly feel very cozy, serene, and intimate.
After exploring the entire village and parts of the mountain we likely weren't supposed to be in (shh), we started looking for a place to get some grub, and then we went back to our place to seek refuge from the cold for a while. We had to hunker down before we went out again for some night photography.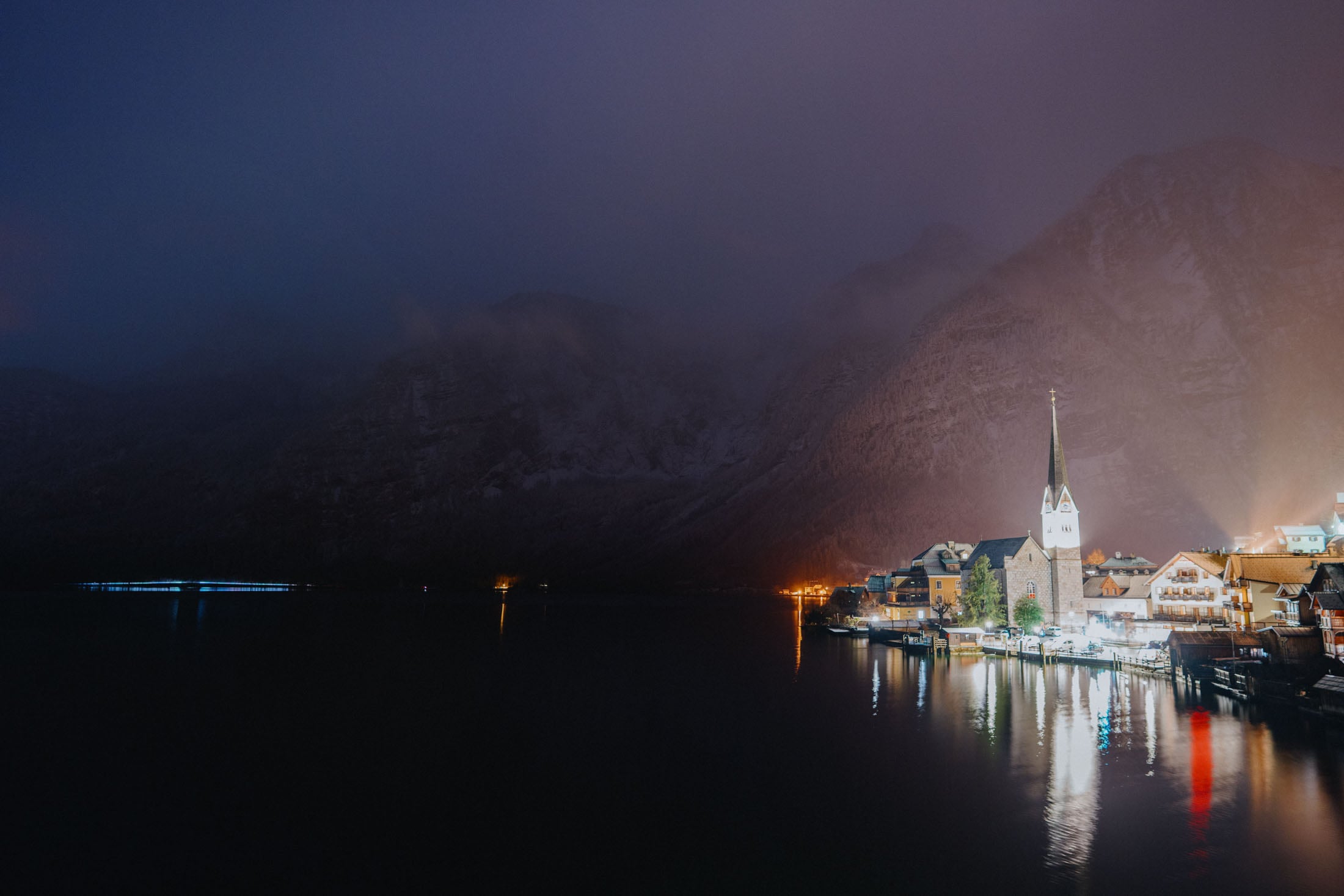 Rise and shine
After a good night's sleep lulled by a few more episodes of Booze Traveler, some charcuteries, and a very warm bottle of red wine (which I forgot to remove from the top of the wood stove) it was time to quickly get ready for the last couple of hours we had in Hallstatt.
It had stopped snowing in the middle of the night and the sun was starting to peek out from between the clouds. There was absolutely no one around for at least two hours, which gave us the perfect opportunity to rediscover the town all over again, in complete silence, now with a completely different light and mood.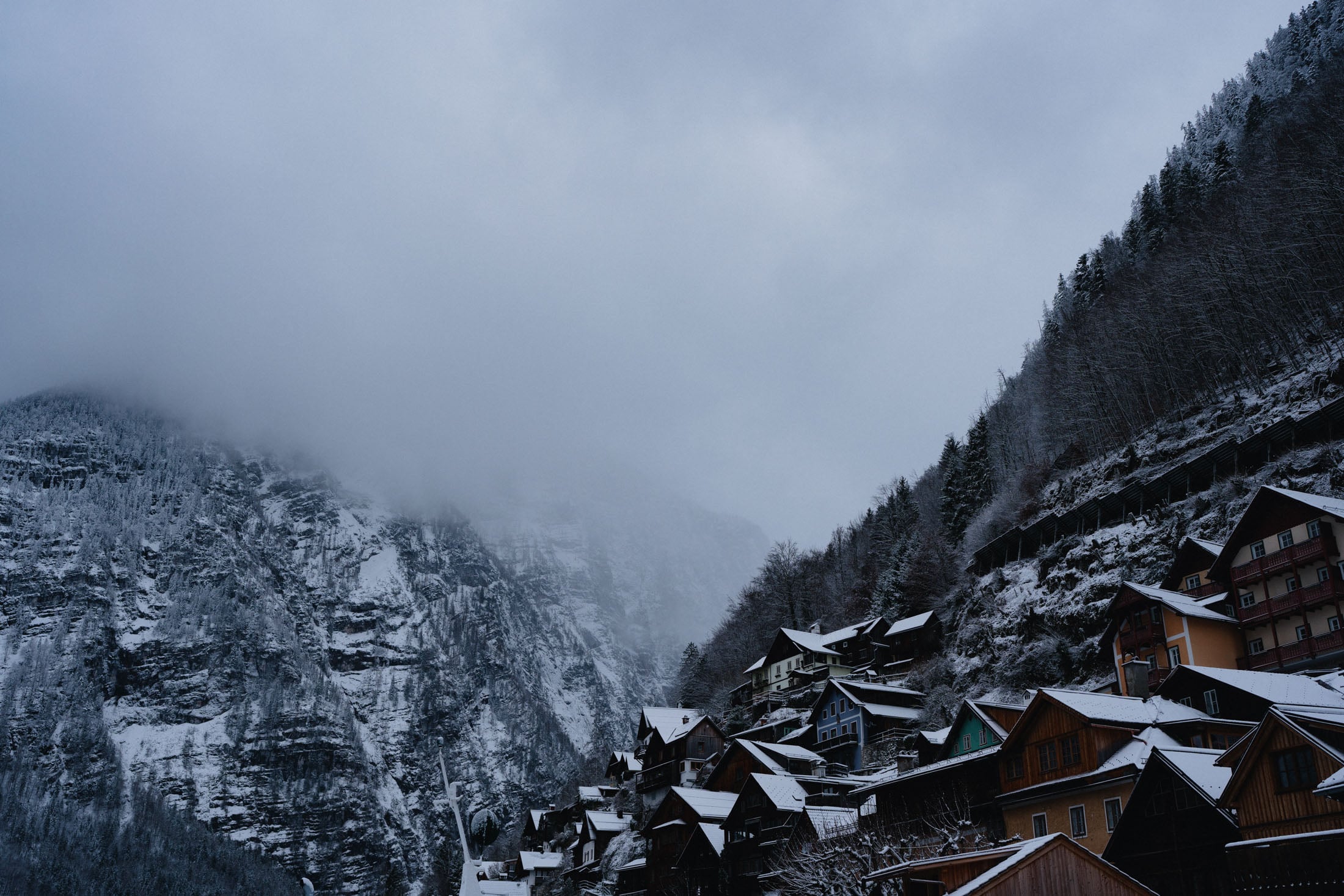 The last bit of business we had to attend to was visiting the oldest salt mines in the world — Saltzwelten Hallstatt —, which a colleague recommended us do. I didn't research it much, nor I think did Jeff because it totally blew our minds.
For starters, you get into a funicular that climbs the mountain flank at an incline of as much as 62%! Then, at the top of mountain, you get a fantastic view at Lake Hallstatt, the village of Obertraun, and the massive summits that frame them down below. We took our sweet time exploring the area before eventually getting to the main building.
Then the tour begins, where you put on a layer of outer clothes to avoid getting dirty and step outside once again. Mind you, at this point we still didn't know what we were in for…
A couple more stairs and we come face to face with an old mine entrance. After a short briefing from the tour guide, the group starts marching towards the mountain and inside it. And the marching kept going and going…at this point, we were deep in the bowels of the mountain — literally miles below ground.
We scooched by tight corridors, went through very large galleries, and even watched presentation videos and light shows in some of them, saw the purest form of salt coming out of rock, had fun in the wooden slides that were used by miners to move quickly between underground levels, and finally rode a mining train out of the mountain.
Once outside, we were greeted by the sun and the blue sky, which totally changed the landscape one more time. Besides the intense cold, which I'm not used to but thoroughly enjoyed for that limited of time, the weather couldn't have been better as it provided us with beautiful pillowy scenery and an almost ghost town waiting to be discovered.
This short expedition had the potential to be epic — expectations were very high and the truth is that reality managed to blow them out of the water.
I'm so grateful for Jeff's invitation, and for all the laughs and moments shared throughout this adventure. Let's do it again soon, my friend!