Last night we were tired and had no problem crashing into bed as soon as we got our keys from the tiny front desk. When our driver dropped us off, guiding us through what seemed to be the entrance to a garage, the night-shift guy was fast asleep on the large couch in the reception area. Truth be told, this B&B — 1 Via dei Valeri — is modest and small, but cozy, pleasant, comfy and somewhat chic. At first, I though the king-sized bed was going to be the best part, but soon I realized the air conditioned would be my most understanding pal.
And now, there I was, laying in bed and slowly opening my eyes, just to be blinded by the first Roman sun rays of the day. Rushed out of bed and straight to the huge glass door that led outside to our private balcony complete with a table and a couple of chairs. When I opened it my first thought was "Damn, it's hot!". Breakfast was small but neat: bread, cheeses and smoked meats, all arranged into one little plate, along with orange and red orange juice, coffee and a variety of pastry. All of which consumed outside on the B&B's balcony — what a perfect way to kick off our stay in Rome.
As one should do in Rome, we got familiar with the city by walking (and we tend to abuse our feet and legs in the first day). I'm not the kind of guy who enjoys the boring tour guide or make plans months in advance to get to know a new city. In my book, strolling around through the narrowest streets and bumping into locals always leads you into something worth checking out. Rome, despite being a city known for its immense history, witnessed by the countless landmarks, monuments, and ancient buildings, was no different.
It's when you diverge from the tourist-packed areas that you start to feel the pulse of the place, start noticing details that make a city unique. It's about the smells, the sounds, the kind of thing that makes an experience unique; otherwise it starts to feel like a giant amusement park for adults, packed with long queues and silly comments, that make me wish I couldn't understand them.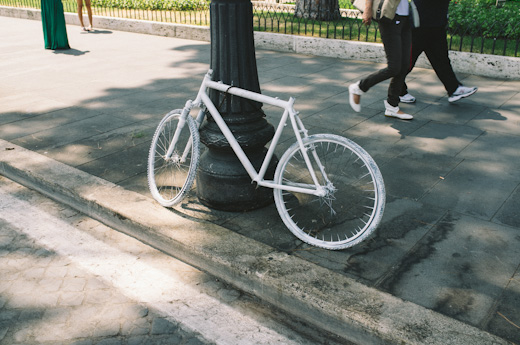 Our place was just 10 minutes away from the Colosseum, so it was a required first stop, where guides gather tourists like cattle. Started making way through some veiny streets, avoiding the blistering sun as much as we could, and reached the city center. By then, the immense heat was getting to us, so we decided it was time to find a place to have a refreshing drink and snack on something delicious. Campo de' Fiori seemed like a fitting spot, and we sat at Obika Mozzarella Bar, where they have some mighty cured meats. The waitress suggested the Mozzarella tasting, so we had it two ways: pontina and affumicata, accompanied by a selection of said meats, a rosemary focaccia, a parmesan, melon and arugula salad, washed down with a light and freezing-cold beer, the Lurisia 4. Easily one of the best, most diverse meals we've had in Italy.
After said replenishment we strolled around the market for a bit, where Lena had some of the freshest, seasonal fruit, and slowly started walking up northwest, heading to Trastevere. On our way there we got to see Castel Sant'Angelo from afar and set foot on the Vatican, which I was thoroughly disappointed with. It's not that it isn't big or imposing, but it definitely isn't as jaw-dropping as I expected.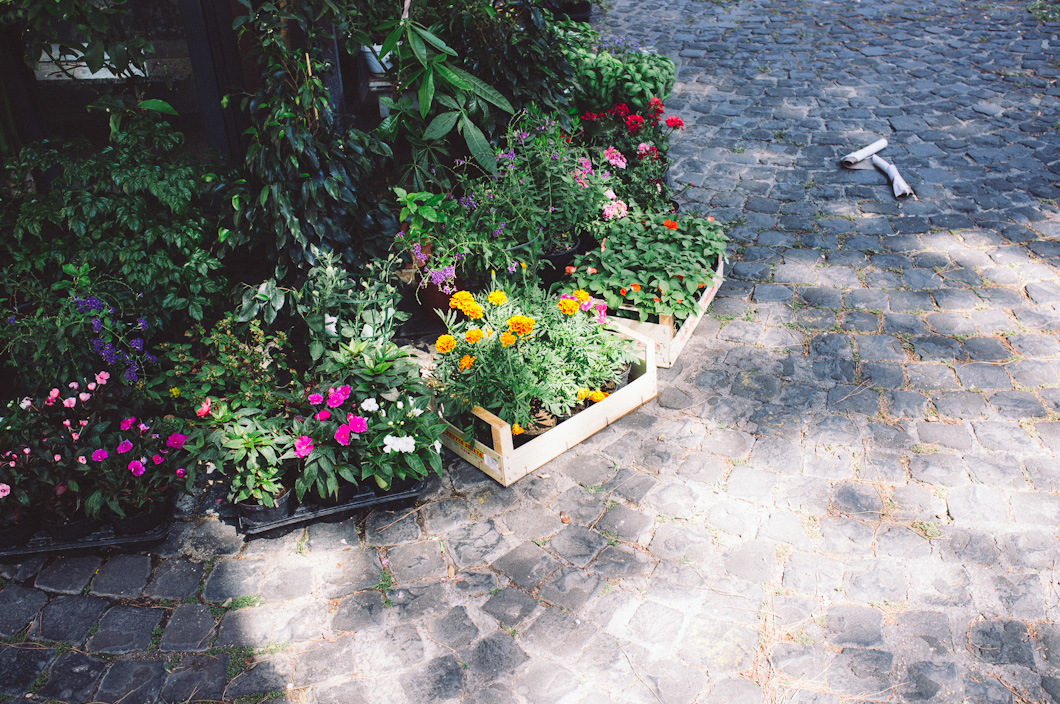 Via Guilia, on the other hand, was a nice surprise and its colors and textures reminded me of Tuscany. A quiet but pleasant street, home to antique shops, elite stores, governmental buildings and the occasional church (there are more than 900 in Rome alone). One of the coolest things about Rome are the patios and building entrances. They ooze a cold breeze, each displaying a unique personality: different colors, statues, gates, tiles, interior gardens, etc.; resulting in a myriad of variations and patterns, each welcoming their guests in an appropriate fashion.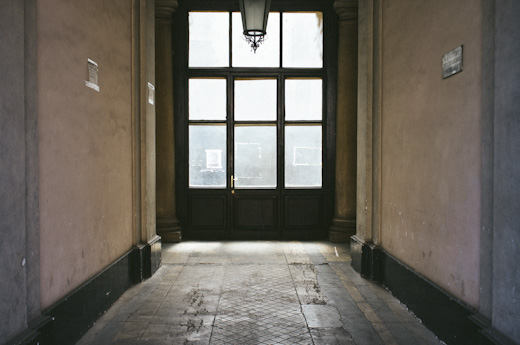 We hoofed through Trastevere's cobbled pavement, exploring the tiny alleys and hidden corners, tiredly ending up on Ombre Rosse for a couple of beers — it might have been more than a couple, I admit — and resting our bashed, mush feet. Trastevere — which literally translates to "beyond the Tiber" — is a hip district packed with bars, restaurants and clubs, known for its nightlife — which we would enjoy later on — in all similar to the Portuguese Bairro Alto. With its small fountains, timidly open venetians blinds, varied street art, tiny but overly decorated balconies, smiling locals, and traditional shops — which most seemed to stop in time 20 years ago —, this typically Roman neighbourhood would instantly become our favorite.
While heading to the hotel, we got to see the final minutes of Germany VS Italy inside a mini-stadium built for the occasion. Italy won, 2–1, and Romans couldn't be happier.