This was another day that we decided to take it easy, but walk around a bunch. We started in Jingumae, early in the morning when the traffic was still low, there was almost no one around, and the temperature was still bearable.
One of the things still in our bucket list was to visit the Ghibli museum so we headed to the closest Lawson, where they sell tickets in automated kiosks. But unfortunately, tickets were only available 2 days from then and we already had plans, so hey — yet another excuse to go back once again, right?
Carrying a few Lawson snacks in our hands we went down the street just a little before turning to Togo shrine. Surrounded in a beautiful garden in the middle of busy Harajuku, it's somewhat secluded which makes it even more precious and sheltered from the sometimes crazy neighbourhood that holds it — a very peaceful and quiet retreat indeed.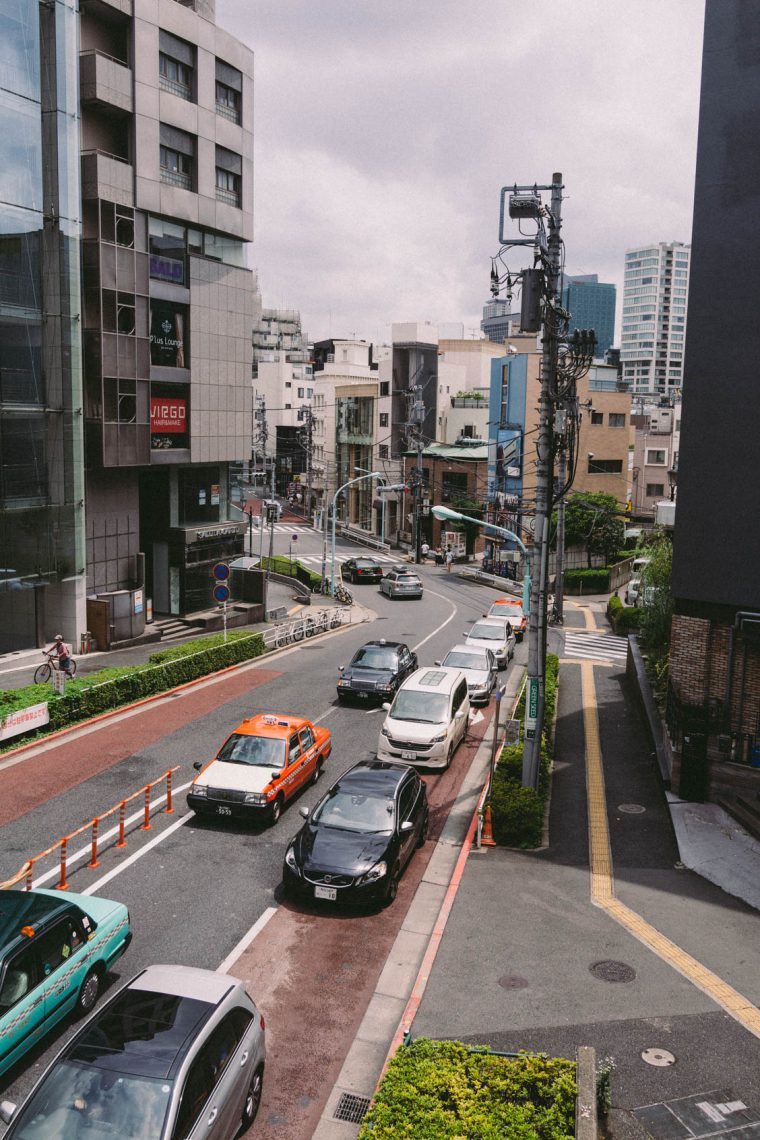 In stark contrast, once you leave the sacred grounds, you're in the middle of the bustling commotion that is Takeshita — Harajuku's main street — which is known for alternative fashion styles and shopping in general. In the same consumerist spirit that plagues a good part of Japan, Lena wanted to buy a pair of Nike shoes around the corner so we could do some real walking and explore in comfort.
Specifically we were in search for one of the best ramen shops in Tokyo in the Shibuya area. We'd heard a lot about it and as fans of Tonkotsu-style ramen (porky, fatty, cloudy delicious broth), we had to try it. We decided to take as many shortcuts as possible and after a while found ourselves in narrow and idyllic streets that were really peaceful but, at the same time, right in the middle of one of the busiest areas in Tokyo.
This is strange to imagine I'm sure, but it's also the norm in Japan. Even though you're in the biggest metropolitan areas in the world, where the clock and people just don't stop 24/7, you can always step a bit to the side and enjoy some quiet time in a secondary street.
The ramen shop we were looking for was closed for remodelling, so we had to walk a bit more and ended up having lunch at the very first spot we had ramen at the previous year. Ordered a few gyozas, a big cold beer, filled our cups with oolong tea, and ate some spicy bamboo shoots while waiting for the main dish. In a matter of minutes we were slurping away like there was no tomorrow — fantastic little place.
After that big lunch we slugged our way around Shibuya where we saw a real-world version of Mario Kart: people in accurate attire and with matching karts driving through the busy streets, alongside the usual pimped-out cars in this district. No banana peels, though.
After a quick bowling session, we headed towards Jingumae again through a street we didn't know about, linking Shibuya and Harajuku. Takeshita is interesting and all, but this was another level of chic, unique and classy boutiques and shops, lined one after the other, ending up in Omotesando. Small gardens and green areas, little corners, even smaller shops, paintings and brands, unique fashion statements, etc. ±0 was one of the highlights; such a narrow shop, but with the greatest architecture and interior design elegance I've seen.
Dinner was back in Harajuku, in a small yakitori place that had gotten our attention a few days earlier, but no english-speaking staff. Unfortunately I didn't bring the camera, so a description will have to do: grilled chicken breast, crispy skin, wings, liver, fried chicken, stuffed mushrooms, avocado salad, and beer. Lots of beer. So much beer that we decided to travel to Osaka the next day to visit Universal Studios. Don't drink and make decisions, especially if they involve getting up before 5 am the next day.